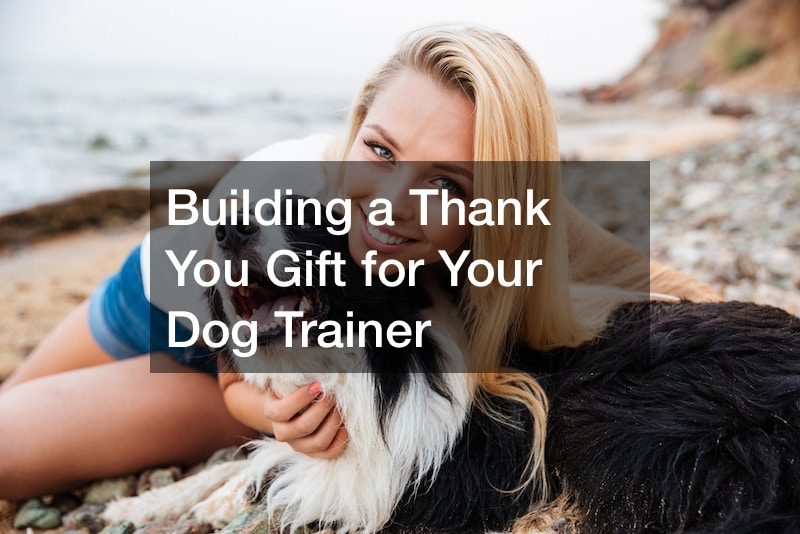 Dog trainers play a crucial role in shaping our furry friends into well-behaved, obedient companions. They invest time, effort, and expertise in helping us understand and communicate with our beloved pets. When a dog trainer goes above and beyond, it's only natural to want to express our gratitude and appreciation. One of the most heartfelt ways to convey our thanks is by building a personalized thank you gift for dog trainers worth their weight in gold.
By putting thought into creating a meaningful present, we can show our trainers just how much we value their hard work and dedication. In this article, we will explore creative ideas and suggestions for building a thank you gift for dog trainers that deserve it and that will make your dog trainer's heart melt with joy. From personalized treats to customized gear, we have compiled a list of thoughtful gestures that will demonstrate your deep appreciation for their commitment to both you and your furry friend. Let's dive into the world of heartfelt gifting and find the perfect way to say 'thank you' to your amazing dog trainer.
Connect Them with New Clients
Showing your appreciation for your dog trainer by connecting them with new clients is a fantastic way to support their business and help them expand their reach. Here's a guide on how to go about it: Familiarize yourself with your dog trainer's services, training methods, and areas of expertise. This will allow you to confidently recommend them to potential clients and provide accurate information about their offerings.
Prepare a concise description of your dog trainer's services, highlighting their unique selling points and the benefits they provide. Collect any brochures, business cards, or online resources they have available for sharing.
Keep Up with Their Education
Showing your appreciation for your dog trainer by keeping up with their education demonstrates your commitment to their professional growth and acknowledges their dedication to staying updated in their field. Let your dog trainer know that you value their dog training expertise and are interested in staying informed about the latest developments in dog training. Express your willingness to support their educational journey, and you won't have to build a physical thank you gift for your dog trainer. Also, stay informed about any workshops, seminars, or training events your dog trainer may be hosting or participating in. Make an effort to attend these events to not only expand your own knowledge but also show your support for their continued education.
Soften Their Water
Yes, this may sound like a wacky idea, but it makes a very unique and thoughtful thank you gift for your dog trainer. First, determine the hardness level of your dog trainer's water by using a water testing kit or contacting a local water testing service. This will help you understand the extent of the hardness and guide your efforts in softening the water.
Explore different types of water softener installations to find the most suitable one for your dog trainer's situation. Common methods include water softeners, water conditioners, or using specific products to mitigate the effects of hard water. If your dog trainer has pet allergies, they may value this gesture focusing on their health a lot more than you think.
Add Fake Grass
Showing your appreciation for your dog trainer by adding fake grass is a thoughtful gesture that can enhance their training facilities. Start by having a conversation with your dog trainer about the possibility of adding fake grass to their training area. Explain that you would like to contribute to improving the environment and ask for their thoughts and preferences regarding artificial turf.
Evaluate the size and layout of the training area to determine how much fake grass would be needed. Consider factors such as the dimensions, any obstacles or equipment present, and the overall suitability of artificial turf for the space. Then look for a reputable fake grass installer.
Maintain Their AC
Showing your deep appreciation for your dog trainer by maintaining their air conditioning (AC) system is a thoughtful gesture that can contribute to their comfort and enhance their training environment. What better thank you gift for dog trainers who also care about keeping their customers comfortable? Start by discussing your intention to maintain their AC system with your dog trainer. Explain that you would like to help ensure a comfortable training environment for them and the dogs. Seek their permission and inquire about any specific requirements or preferences they may have. Then look at local AC repair companies you can trust to take care of the system. Coordinate with the trainer to find a suitable time for the service visits.
Repair Their Facilities
You can invest some money in your favorite dog trainer's facilities and offer to help repair all the broken and neglected areas for them. Start by having a conversation with your dog trainer about your intention to repair their facilities. Express your gratitude for their work and explain that you would like to contribute by helping enhance the training space. Seek their permission and inquire about any specific repair or maintenance needs they may have. You can hire the right people, like fence companies or landscaping services to professionally take care of the facilities for the dog trainer. If the facility needs it, get a carpet cleaner and give all the carpets the TLC they need.
Invest in Custom T-Shirts
If you want a fun thank you gift for your dog trainer, why not go for something unique like custom t shirts? Talk to your dog trainer about their preferences, including their favorite colors, design ideas, and any specific messages or logos they would like on the T-shirts. Consider whether the T-shirts will be for the trainer alone or for their entire team or group of customers. Work with a graphic designer or use online design tools to create custom T-shirt designs. Incorporate elements that represent your trainer's brand, training methods, or the bond between trainers and dogs. Include their name, logo, or a special message of appreciation.
Help Build a Communal Pool
If you want a thank you gift for your dog trainer that will be awesome for not only them but your community as well, think about working with pool builders and building a communal pool. You'll have to evaluate the feasibility of building a communal pool based on available space, budget, permits, and any local regulations. Determine the requirements and restrictions to ensure compliance and a safe construction process.
If the cost of building a communal pool is beyond your means, consider organizing fundraising activities to gather the necessary funds. Reach out to fellow dog owners, community members, or local businesses who may be interested in supporting the project. Utilize social media, and crowdfunding platforms, or host events to raise funds.
Take Care of Them Too
Showing your appreciation for your dog trainer by taking care of them is a thoughtful gesture that recognizes their well-being and demonstrates your gratitude. Ask your dog trainer if there are any specific tasks or errands you can help with. It could be something as simple as running an errand, picking up supplies, taking them to a pain clinic if they need that kind of care, or assisting with administrative work. By offering practical help, you alleviate some of their workload and show your support.
If you come across valuable resources, articles, books, or tools related to dog training, share them with your trainer. It shows your commitment to their professional growth and provides them with additional knowledge and insights.
Bake Personalized Dog Treats
If you don't have a lot of money to spend on a thank you gift for your dog trainer, why not make it more personal and make some personalized dog treats they can give to their canine visitors? You can also purchase high-quality, gourmet treats and package them in a decorative tin or jar. Consider adding a personalized note or label with the dog trainer's name or a special message.
Consider a Gift Card to a Pet Store
Unleash your gratitude with a pawsome gift! Treat your amazing dog trainer by presenting them with a gift card to a local pet store or a specialized online retailer that's all about pet supplies. Let their imaginary tail wag with excitement as they explore a world of options and pick out goodies for their fur babies or find fantastic tools for their next training session. It's like giving them a golden ticket to a pet paradise where they can fetch exactly what they need. Show your trainer some love with this tail-waggingly delightful gift!
Create a Handmade Dog Toy
Does your dog trainer have a dog of their own? Get your DIY paws on and create a tailor-made toy for your trainer's four-legged buddy! Unleash your inner crafty canine and sew together a fetching toy using sturdy fabric. Or, take those old t-shirts and socks hiding in the back of your drawer and transform them into a pawsitively delightful braided rope toy. Get those creative paws braiding, knotting, and stitching to make a unique plaything that'll have their furry friend wagging with joy! Don't forget to attach a heartfelt note expressing your thanks, because gratitude is always in style. It's time to put your paws to work and create a one-of-a-kind toy that'll make tails wag and training sessions even more wag-tastic!
Make a Personalized Photo Frame
Capture a precious moment during training that'll make tails wag and smiles abound! Strike a pose with your amazing dog trainer and your furry superstar, and freeze that moment of triumph and joy. Now, let's frame it up in style! Get your paws on a customized picture frame, engraved with their name or a paw-some heartfelt message. Make it a keepsake that'll warm their heart and bring a smile to their day whenever they cast their eyes upon it. It's a frame-worthy gesture to show your trainer that their dedication is etched in your heart fur-ever. Say cheese, unleash the smiles, and let this customized frame be a delightful reminder of the woof-tastic journey you've shared together!
Donate Dog Training Books or DVDs
If your trainer has an insatiable appetite for knowledge, it's time to unleash the perfect gift! Surprise them with a doggone good book or DVD on dog training or behavior. Dive into the realm of reputable authors and trainers who specialize in your trainer's preferred training methods. Fetch a treasure trove of wisdom from the experts who will help them unleash new training techniques and deepen their understanding of our furry friends. Let their curiosity run wild as they flip through the pages or hit play on a video that'll have tails wagging with excitement. It's time to gift them a knowledge-packed adventure that'll keep their training game at the top of the leaderboard!
Treat Them With a Spa or Wellness Package

Pamper your pawsome trainer with a relaxing experience fit for royalty! It's time to put together a tail-wagging spa or wellness package that'll make them melt into a state of bliss. Start by gathering delightful goodies like scented candles to create a serene ambiance, luxurious bath salts for some well-deserved soaking, and a plush robe that'll make them feel like the leader of the pack. And why stop there? Go the extra mile and add a sprinkle of spa magic with a gift certificate for a massage or spa treatment, where they can unwind and let their stress melt away. It's time to treat your trainer like the champion they are, and this spa package will have them feeling refreshed, rejuvenated, and ready to conquer the world, one paw-step at a time!
As dog owners, we understand the immense impact a skilled and dedicated dog trainer can have on our four-legged companions. Building a thank you gift for dog trainers is an opportunity to reciprocate their efforts and express your sincere appreciation. Whether it's through personalized treats, customized gear, or a thoughtful gesture that resonates with their interests, your gift will serve as a tangible token of gratitude.
Remember, the most important aspect of any thank you gift is the heartfelt sentiment behind it. Take the time to personalize your gift, include a handwritten note, and express your gratitude for their unwavering commitment to helping you and your dog succeed.
By building a thank you gift for dog trainers, we not only show our appreciation for their expertise but also foster a deeper connection with them. Your gesture will serve as a testament to the bond you share, and it will undoubtedly leave a lasting impression.