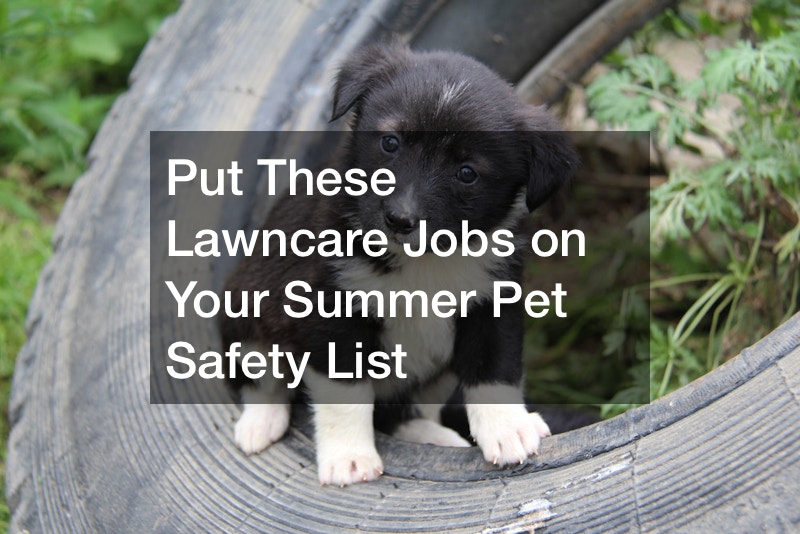 Summer is the perfect season to take your pet outdoors, where they can bask in the warm weather, play in the grass, and get some decent exercise. However, you must also keep your pets safe outdoors, as many dangers can be found in your yard. So, below are top lawn care tips for your summer pet safety to ensure your pets have all the fun without any incidents.
Keep Debris Out
It's not unusual for homes to have debris lying around the yard. But unfortunately, this is one of the most significant threats to the safety of your animal companions. As such, one of the top summer pet safety tips to keep them safe is to remove all garbage from your property.
Some of the top pet hazards you should keep in your yard include nails, broken glass, concrete blocks, metal pieces, and other garbage that can injure your pets. In addition, according to PETA, litter such as plastic bottles and bags can hurt or kill pets, as they can easily mistake them for food. Therefore, you should avoid placing household waste in places accessible to your animal companions.
Falling limbs and trees are another top danger that you can find in your backyard. Therefore, you should hire tree cutting services to remove branches or trees that can injure your animal companions. In addition, you must clear any leftover debris from fallen trees and stems or the tree-cutting process.
Lastly, falling debris from the roof is another top hazard that can injure your pets. This can include falling snow, ice, damaged roof shingles, or roofing features such as skylights and chimneys. Therefore, hiring regular home roof inspection services ensures your roof is in top condition. Consequently, this will help avoid accidents that could injure your pets, damage your property, or harm your family.
Eradicate Unwanted Visitors
Foreign visitors in your backyard are another common danger that can harm your pet. This can include dangerous wildlife, pests, and toxic plants. Therefore, eradicating them is another top summer pet safety tip to observe before letting your animal companions out into your yard.
According to the ASPCA, fleas and ticks and ticks are one of the top pet dangers where pests are concerned. That's because they feed on their blood, causing skin irritation and infections, and they can also spread diseases. In addition, you should be on the lookout for other bugs like mice, rats, mites, mosquitos, bees, and spiders, and call a pest control company immediately after you come across them in your yard.
Besides pests, you should also be wary of wild animals like snakes, hedgehogs, bears, coyotes, beavers, feral cats, alligators, and toads. Some of these animals can hurt or kill your pets, while others can spread severe diseases. Therefore, you must call for wildlife control services when you spot them on your property.
Lastly, toxic plants are another pet danger you must eradicate from your backyard. This includes lilies, aloe vera, tulips, azaleas, amaryllis, yew, begonia, etc. At best, these plants can cause vomiting and gastrointestinal issues; at worst, they can poison and kill your pets. So, it's a good idea to remove them from your property or keep them out of your pet's reach if you must cultivate them.
Invest in Heavy Duty, Bite-Resistant Garden Equipment
Lawn gardening equipment is another potential danger to your pets. As a result, one of the top summer pet safety tips is to invest in pet-friendly tools, guaranteeing the safety of your animal companions. In addition, you should keep all your equipment locked up when not in use, thus mitigating the dangers your pets are exposed to when out in your yard.
Plastic and rubber tools like water hoses, cans, and containers are among the top pet dangers for gardening equipment. That's because your animal companions are likely to chew on them, which can lead to bowel issues if they ingest the materials. As a result, you should invest in pet-friendly tools like a heavy duty water hose or metallic cans and containers that your pets cannot chew.
Gardening chemicals such as fertilizers, pesticides, herbicides, fuel, and machine oil are top hazards that can harm your animal companions. Therefore, you should invest in pet-friendly chemicals whenever possible, for example, organic fertilizers, pesticides, and herbicides that you can purchase at your nearest garden center.
Keep Your Yard Cool
According to The Humane Society Of The United States, animals, like human beings, are affected by heat. As a result, the rising temperatures and humidity of the summer season can be uncomfortable or, in the worst cases, dangerous for them. Therefore, protecting your animal companions from extreme heat is one of the top items to add to your summer pet safety list.
Adding shade to your yard is one of the top ideas to protect your pets from severe summer heat. The shade can be natural, for example, trees and bushes, or artificial, like umbrellas, shade sails, canopies, gazebos, awnings, dog tents, etc. In addition, you can install a pet pool where your animal companions can enjoy a dip and get relief from the sun. Lastly, you should provide sufficient drinking water for your pets, which will help protect them from dehydration.
Besides keeping your yard cool, you should avoid having the pet outdoors when the temperatures are too hot, for example, in the afternoons or during heatwaves. In addition, you should avoid exercising your animal companions during these periods. This will help prevent dehydration and heatstroke, which can leave your pets seriously ill or kill them.
Ensure the Lawn Is Clear
A clean and untidy lawn can contain many hidden dangers for your pets. Therefore, regular lawn care is another essential item to add to your summer pet safety list. And besides keeping your pets safe, maintaining the lawn will keep your yard looking nice, allowing your family and animal companions to enjoy it to the fullest.
One of the top ways to keep your yard clear is by mowing the grass. This can help expose hidden hazards such as broken glass pieces, nails, wildlife, etc., thus keeping your pets safe from harm. And just to be safe, you should not use your lawn mower when your pets are near or leave it lying around in the yard after you're done.
Besides cutting grass, you should clear your lawn of other pet hazards, for example, tree stumps. These are other items that pets love to chew on, and, unfortunately, they often contain diseases that can lead to bowel problems or poisoning. For stump removal, you can call a professional or look for a stump grinder rental near you and remove it yourself.
Invest In Pet-Friendly Lawncare Services
Lawn maintenance is vital for keeping your lawn healthy and lush, especially if you have pets. However, some practices can cause serious harm, or even death, to your animal companions. Therefore, investing in pet-friendly lawn care services is another top item to add to your summer pet safety list.
One lawn care practice you should avoid when you've got pets is using chemicals — pesticides and herbicides are commonly found in the urine of pets on the lawn. These chemicals increase the risk of health complications such as kidney failure and bladder cancer. Besides chemicals, inorganic fertilizers, compost, and some types of mulch can also be harmful to your pets.
Given the threat posed to your pets, you should invest in pet-friendly solutions for your lawn. For example, if hiring a lawn care professional, you can ask them to use organic substances that are not toxic to your specific animal companions. Alternatively, you can keep your pets off your lawn until the chemicals have dissipated or restrict them from accessing areas of your turn with harmful substances. Lastly, it would help if you visited a veterinarian regularly to have your pets screened for any toxic substances in their body.
Fence Off Your Yard
Despite how well you try to make your lawn and yard safe for your pets, several hazards could still harm them. So, one of the most effective summer pet safety tips is to utilize fences in your yard. This will help control areas your pets can access, thus significantly mitigating the threats they're exposed to.
One of the top ways fencing can keep your pets safe is by confining them to your yard via a perimeter fence. This will protect them from hazards beyond your property line, such as cars, other animals, and sharp objects. In addition, according to Angi's List, a fence is an excellent way to keep pet dangers like wild animals off your home.
You can also use fences to protect your pet from dangerous areas within your property. For example, you can install a boundary fence to keep your animal companions away from gardens or bushes with toxic plants. You can also fence off areas such as swimming pools, ponds, garden sheds, water well, etc.
Of course, for your fence to be effective, you'll need a sturdy material to keep your pets contained. Some top options are vinyl, metal, wood, chain link, and prefabricated panels. And besides the material, the fence should also be installed correctly to prevent your pets from jumping over, digging under, or knocking it over.
Got a Sprinkler? Check Your Drainage
Watering your turf with sprinklers encourages healthy and vigorous growth, helping it recover faster from abuse from pets, kids, and other activities. Watering is also a great way of diluting pet urine, thus preventing damage to the grass. Unfortunately, if your lawn's drainage is damaged, you might have several issues that can harm your pets.
One of the top problems brought about by poor drainage is waterlogging, which can attract disease-carrying pests like mosquitos, wasps, flies, cockroaches, etc. Pooling water is also likely to contain chemical toxins, bacteria, and viruses, which can cause various illnesses in your pets. On top of that, without proper drainage, your lawn can suffer from additional problems such as mold and mildew growth, another top pet danger.
Given these problems, fixing your yard drainage issues should be at the top of your summer pet safety list. You can call a lawn care professional for repairs, especially if the trench drain has been clogged or damaged. In addition, you can improve drainage problems by aerating your lawn with sand, compost, and mulch.
Make Sure You Can Always Keep an Eye on Them
According to Animal Behavior College, you shouldn't leave your pets unattended when in the yard. One of the top reasons for this is the many potential hazards that can easily harm them. Unfortunately, spending every second looking after your animal companions might be impossible. Therefore, another top summer pet safety tip is to develop ways of keeping a close eye on them, even if you aren't in the immediate vicinity.
A home security system is one of the top ways of keeping a close eye on your pets while they're outdoors. The system can include CCTV cameras, which you can use to monitor your pets remotely. It's also a good idea to install outdoor lighting fixtures to offer you better visibility when you're outdoors with your pets in the evening or at night.
Hiring a pet sitter is another top way of keeping a close eye on your pets. This is vital when leaving them unattended for long periods, for example, when going to work or heading out to run long errands. Additionally, it would help if you made proper arrangements for your pets when traveling, such as leaving them with family, friends, or neighbors. You can also consider other options like hiring a dog boarding service, thus ensuring your pet is well taken care of and protected from harm.
Your animal companions will enjoy spending time outdoors in the summer. However, the numerous dangers they can be exposed to can make you rethink this. Fortunately, the above summer pet safety tips can mitigate these hazards, protecting your pets and giving you peace of mind.